Programme
The IZKF offers research grants in all major research areas of the Faculty of Medicine, i.e. immunology and infection research, renal and vascular research, neurosciences and tumor research. The funding period is 30 months.
After a single funding period projects should be transferred to extramural funding. If the application for extramural funding was filed within the duration of the IZKF project it is possible to extend the duration for another 6 months. In case of a two-stage review process, the full application is required.
IZKF projects ordinarily include one personnel position (doctoral student or technical assistant. Until 2015 there were two personnel positions). Applicants are expected to have an active publication record and own external funding. Preliminary results should yield the promise of a successful transfer of the project into external funding after the 30-months term. Innovative and original ideas and concepts are especially valued as well as the clinical relevance and interdisciplinary approaches. Applicants from all clinics, departments and institutes of the Faculty of Medicine and co-applicants from other faculties are entitled with no age limit.
Major research areas of the Faculty of Medicine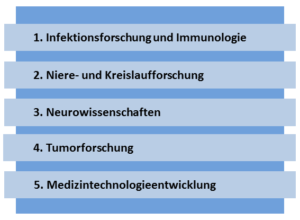 Grant Volume for Advanced Projects
Staff

Postgraduate scientist or
Technical assistant

Consumables

15 T€ p.a.
35 T€ p.a. (tandem projects)
Others

Special programmes of the IZKF during project duration

Duration

30 + 6 Monate